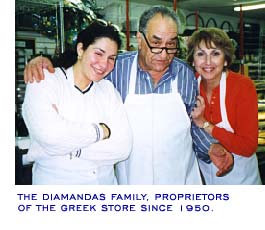 The Greek Store is a family owned and operated business that was established in 1950 by Nicholas Diamandas.
We are dedicated to giving our customers the best quality products. Our store is for the discerning gourmet who is looking for excellent products and a wide range of selections.
Our specialty is in our wide array of homemade products; appetizers, entrees, dips, cookies & pastries; which are perfect for parties and the holidays!

Please call for holiday & vacation schedules.