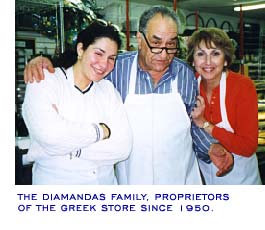 Contact Us

The Greek Store

612 Boulevard
Kenilworth, New Jersey 07066
tel: (908) 272-2550
fax: (732) 382-2894
We proudly accept Visa, MasterCard, American Express and Diner's Club
For more information please call us at (908) 272-2550 during
regular business hours
and ask for Steve, Vasi or Lia.
email:
info@eatgreek.com
Please call for holiday & vacation schedules.
Visit Us
DIRECTIONS: From the Garden State Parkway, take Exit 138. At the traffic light, make a left onto Kenilworth Blvd. (going west) and go about a half mile. The Greek Store is located on the right side of Kenilworth Blvd. between Michigan Avenue and 24th Streets.