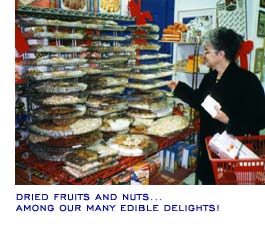 Other Food Items
Greek Oregano (bunches or in jars)
Mountain Tea
Sesame Seeds
Semolina
Cracked Wheat/Bulgar
Pumpkin Seeds
Chick Peas
Lentils
Rusks-Greek dry toasts
Fava Beans
Couscous
Rosewater/Orange Blossom Water
Israeli Pickles
Coffees
Nescafe
Tahini
Misko Macaroni
Fruit Preserves
Loucoumia
Halvah
Fillo dough #4, #7, #10 -- Fresh, not frozen!
Kataifi Dough
Basterma
Soujouk
Haloumi
French and Italian style Salamis
Red Wine Vinegars
Balsamic Vinegars
Ajvar
Vegeta
Pita Bread - pocket and Greek style
Gyro meat
Souvlakia-chicken or pork
Loukaniko-Greek style with orange peel
Roasted red peppers
Labne – strained, thick yogurt
Wholemilk yogurt
Salted anchovies
Sardines in oil
Lakerda (smoked bonita fillets in oil)
Lahmajoun

NOW FEATURING: FAGE YOGURT
Flown in directly from Greece! Available in Fat Free, Light, Regular, Sheep's Milk, and with Honey.
All varieties are available in individual size. Regular is also available in half-kilo and 1 kilo.