Cheeses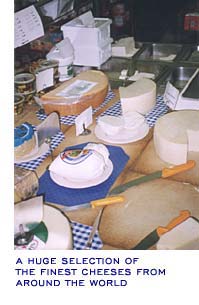 Imported Greek Feta from the Barrel - Our favorite and most popular feta. Made from sheep's mile and aged in a barrel, this feta has a sharp bite to it and is full of flavor.
Greek Dodonis Feta - Sheep's milk feta that is creamier and milder than the barrel feta.
Epiros Feta - Sheep's milk feta from the northern region of Greece known as Epiros this feta is similar to Dodonis feta.
French Feta - Also made from sheep's milk, this feta is the mildest of all and has the lowest salt content.
Bulgarian Feta - This too is a sheep's milk feta but it is an acquired taste. It is a very rich, creamy & salty feta with a bit of a pungent taste.
Domestic Feta - This feta is made from cow's milk in Wisconsin. This feta is usually used for cooking purposes.
Kasseri - A mild and soft sheep's milk cheese -- Delicious!
Kefalograviera - A tasty sheep's milk cheese that has a bit of a bite to it. Excellent for making saganaki.
Kefalotyri - A hard sheep's milk cheese. The saltiest of the Greek cheeses, this cheese is good for grating also.
Manouri - A mild, soft and creamy sheep's milk cheese similar to the Italian Ricotta Salata.
Mytzithra - Salty and pungent sheep's milk cheese used for grating.
Comte - A smooth french Gruyere with a hint of a smoked flavor.
Auricchio Provolone - Imported from Italy and full of flavor.
Parmiggiano Reggiano - Imported from Italy, this is the real thing.
Pecorino Romano - Imported from Italy-the one and only for grating.
Danish and German Blue Cheeses - Both Excellent.